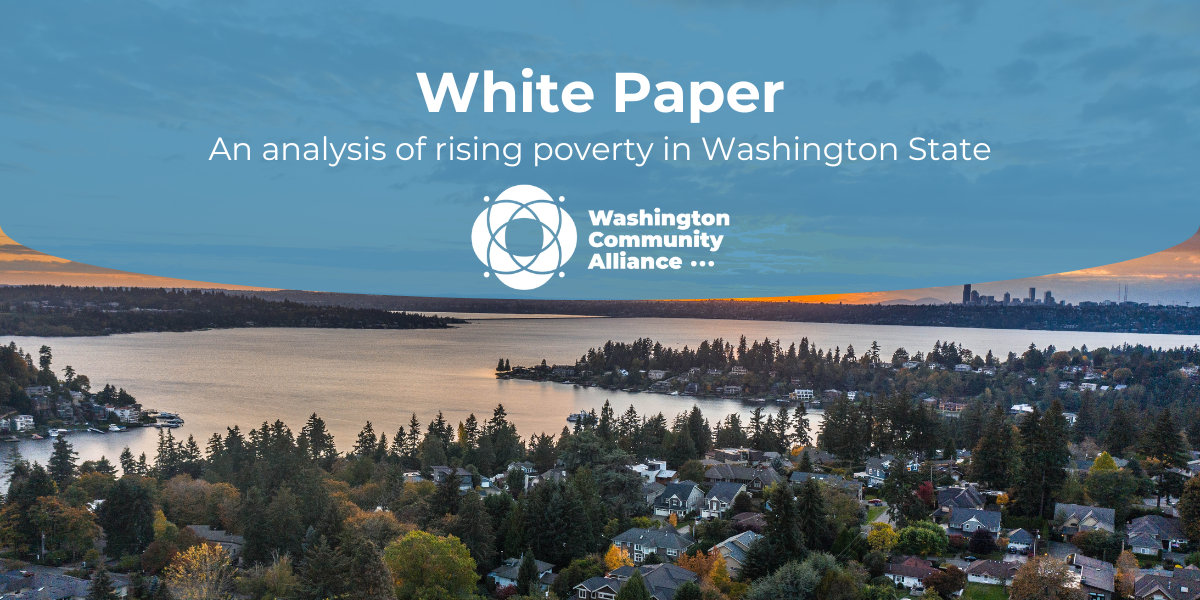 In recent weeks, you may have seen troubling national headlines such as "Child poverty more than doubles — a year after hitting record low, Census data shows" and "Poverty Rate Soared in 2022 as Aid Ended and Prices Rose". 
Now, we can show you what's happening specifically with poverty in Washington. In partnership with People's Policy Project, we've conducted research using microdata files from the Census's Annual Social and Economic Supplement of the Current Population Survey (CPS ASEC). 
The most significant change in Washington poverty is children: from 63,826 children in 2021 to 186,492 children in 2022. That means roughly one in ten WA children were living in poverty in 2022. We can attribute this rise to the expiration of the federal Child Tax Credit, other pandemic supports, and record inflation.
We also see poverty increases with other groups, particularly with Students, Caregivers, and the Fully Employed, defined here as people who worked 52 weeks during the year. 
We can also present the data by what percentage of the poor come from each category for 2021 and 2022.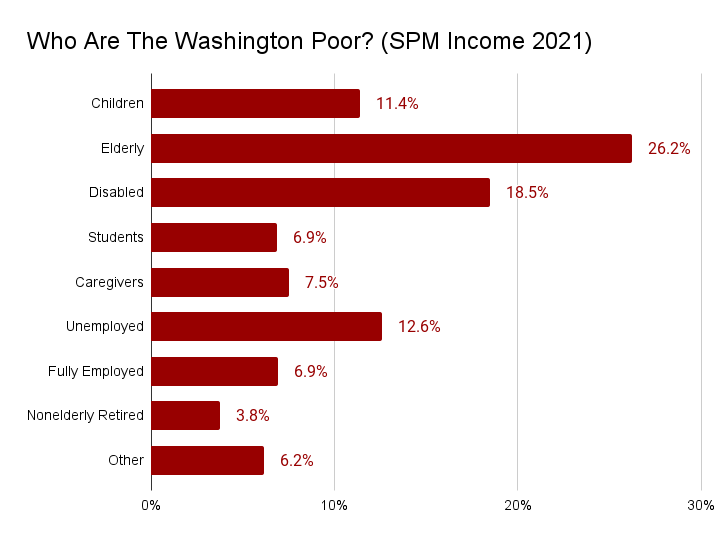 Almost two-thirds of Washington's poor in 2022 come from the CEDS category – Children, Elderly, Disabled, and Students. These populations generally do not have access to labor income. Meager support from our inadequate social safety net is not enough to keep them above the poverty line.  
Washington is one of the wealthiest states in the wealthiest country in the world. The state has the ability to dramatically lower poverty by developing a strong social safety net with well-designed universal policies. 
In recent years, Washington's legislature has taken some important steps toward reducing poverty, such as passing the Working Families Tax Credit and the Paid Family & Medical Leave (PFML) program. These efforts have made a profound and positive impact for many Washington households. 
However, both of these programs are means-tested with high administrative burdens. The Working Families Tax Credit excludes half of low-income children and less than 40 percent of new parents receive benefits from the WA PFML program. 
To fight poverty, Washington should evolve these programs past the flaws of means-testing to universal programs. We can provide a strong foundation for all residents from which to build their lives and thrive.