Communities of color building the future of Washington State
Washington Community Alliance is a statewide coalition of organizations led by and working in communities of color.
We organize to close the representation gap for people of color in elected office, and to make the systemic changes we need for Black and Brown communities to share in the prosperity all of us build.
Get connected
We got Washington counted.

Now we're making sure everyone counts.
We launched an unprecedented relational organizing campaign to ensure historically undercounted communities were counted in the 2020 Census. Now, our statewide coalition is working to make Washington State a true, representative multiracial democracy where everyone counts.
Our 2023 legislative priorities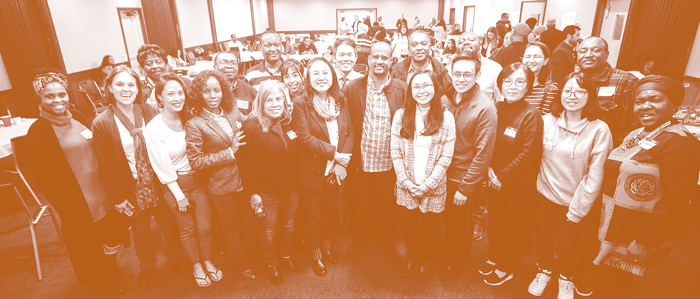 Strong statewide coalition
By joining together, we harness the power of each of our communities to fight for all of our communities.
We support our community organizations and trusted messengers, so they can take the lead in creating change for their community.
We're building a hub for research, tools, and resources for our organizations to grow their work and get their new projects off the ground.
Policy advocacy and systems change
We fight for lasting policy change in our political and economic system that prioritizes working class communities of color.
Political power and representation
We support leaders of color and organize to close the representation gap at every level of government in Washington State.
WCA NEWSLETTER — We've re-upped our Community Whip Count!
A whopping 17,000 of you used this tool last year, which led to 1,100 actions taken on our most important legislation at their most crucial moments.
So first, thank you. But second, LET'S DO IT AGAIN!
WCA NEWSLETTER—While legislative session hasn't technically started, the chess moves already have. We've received the Senate and House Committee and Chair assignments. So here's some highlights:
-Rep. Strom Peterson (D-21) will replace Rep. Gerry Pollet (D-46) on the House Housing Committee, which has major implications for housing and land use legislation.
-The House Local Government Committee also changed…
WCA NEWSLETTER — It's already time to game out your legislative session priorities.
If you're new to The Tally, you should know this newsletter began as a way to bring grasstops leaders (read: you) closer to the sausage-making process that is crafting laws (read: #WALeg).
We started…
Over 90 organizations and tribes, led by and working in communities of color, came together from across Washington State to form Washington Community Alliance.
ACRS
African Community Housing and Development
Amigos de Seattle
APACE
APIC – South Puget Sound
APIC – Spokane
APIC – Yakima
Asia Pacific Cultural Center
CAFE
CAIR WA
Casa Latina
Channel ATV
CHWCMR
CIRCC
Community to Community
Congolese Integration Network
Eastside for All
El Centro de La Raza
Entre Hermanos
Equal Rights Washington
Eritrean Association in Greater Seattle
Ethiopian Community in Seattle
Friends of the Black Lens / Carl Maxey Center
Federal Way Black Collective
Gambian Talents Promotion
Hazel Pete Institute of Chehalis Basketry
Health and Justice Recovery Alliance / Peer Navigator Training Program
Hispanic Business Professional Association
Hispanic Disability Support SWWA
I Did the Time
Iraqi Community Center of WA
Khmer Anti-deportation Advocacy Group (KhAAG)
Korean Community Service Center
La Casa Hogar
Latino Community Fund
Latinos Educational Training Institute
Latinos En Spokane
Latinx Unidos of South Sound
LGBTQ Allyship
Living Well Kent Collaborative
More Equitable Democracy
Muslim Community and Neighborhood Association
Na'ah Illahee Fund
Native Action Network
Northwest Kenyan Community Association
Nuestra Casa
OneAmerica
Organización Centroamericano
Our Place – Nuestra Casa
Pacific Northwest Ugandan American Association
Para los Niños
People Empowerment and Renewal Services
People of Color Community Coalition
Political Destiny / Tacoma Ministerial Alliance
Port Gamble S'Klallam Tribe
Raiz of Planned Parenthood
Rescue Mission and Prayer Network International / WSCACL
Somali Family Safety Task Force
Somos Seattle
South King Youth Engagement Coalition
Spokane Ministerial Alliance
Spokane NAACP
Spokane Pride
Southwest Washington Communities United for Change
Tacoma Urban League
Teenagers Plus
The Noble Foundation
Tri-Cities LULAC Council
Unidos of Snohomish County
Urban League of Metropolitan Seattle
WA Sin Fronteras
WA Transitional Housing
WAISN
Wakulima
Washington Bus
Washington State Coalition of African Community Leaders
Working Families Party
Yakima PRIDE